I've made it to the motherland! I've been In Europe since the 7th of May, but my internet connection has been unreliable, so updates couldn't happen until now.
It has been more than 20 years since I've last been here an much has changed. Granted in that 20+ years there's been a revolution, several currency changes and the transition to EU member country, but it's nice to see that some things never change.
I'm staying with my grandmother in her quaint apartment on a narrow, tree lined street. It's so picturesque, like out of a film. Hanging out with her has been a blast. It's been great hearing stories about my grandfather and my mom and everyone else I remember. We went through a bunch of photos already, but she has boxes more I want to see.
I've only been here a few days and she has caught me up on not just family history, but the plot lines of her favorite telenovellas. I love it when she refers to a character as a "crazy cow". Of course I'm getting sucked in to the story lines too. I use the excuse that these shows are helping improve my listening skills and vocabulary, but really they're a guilty pleasure and something we could bond over. I was astonished at how much I remember of the language though I hadn't heard or spoke it consistently for years.
I explored Piaţa Unirii with my cousin yesterday. She showed me the apartment my parents lived in when I was born and where my grandmother used to live. We were all right there near the city square with it's fountains and beautiful churches. My cousin looks exactly like I remember her. She is tall and thin and absolutely gorgeous. She and I both love beer, so we stopped at a cafe and had a few. I tried the locally produced beer; Timisoreana. It was like a filtered blonde in color, but had a finish more like a lager. I'd definitely get it again.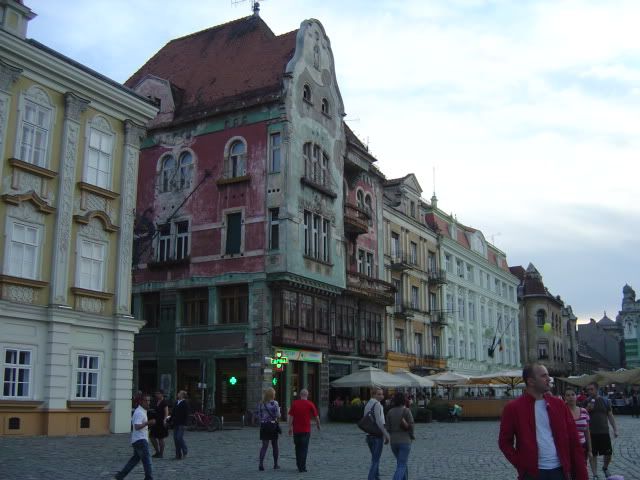 Piata Unirii
No post would be complete without an update on the weather. It was pretty hot and sunny today, though the temperature drops significantly at night. It was overcast and rainy when I first arrived, but all the flowers were in full bloom and the trees were lush and green with full crowns. There's a walnut tree in front of my grandmother's kitchen window and in the fall, the ground is covered in walnuts. I asked if there are many squirrels around here only to find out there are very few! The ones they have are much smaller and they're brown with black and white stripes on their faces. They're like a strange cross between squirrels and chipmunks.  There's also lots of pigeons, doves and stray cats, though they're not exactcly strays. Cats are free to roam the streets but they also have people who care for them, giving them food and a warm place to sleep. I guess this works out since I've seen no rats or mice. The first day I lived in Chicago I saw at least half a dozen rats and mice. Not to mention the giant mega rat that found its way into my kitchen this past winter.
For those that don't know much about Timisoara, it's the largest city in the western side of the country (4th largest in the country), only a few hours drive from the Hungarian border. Due to it's western placement, it was very heavily influenced by the Austro-Hungarian empire and thus has a design and architecture much like western European cities.
Here are some pictures from the city center: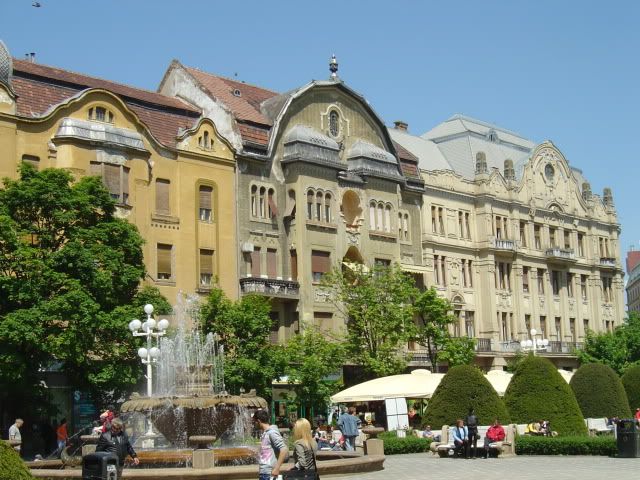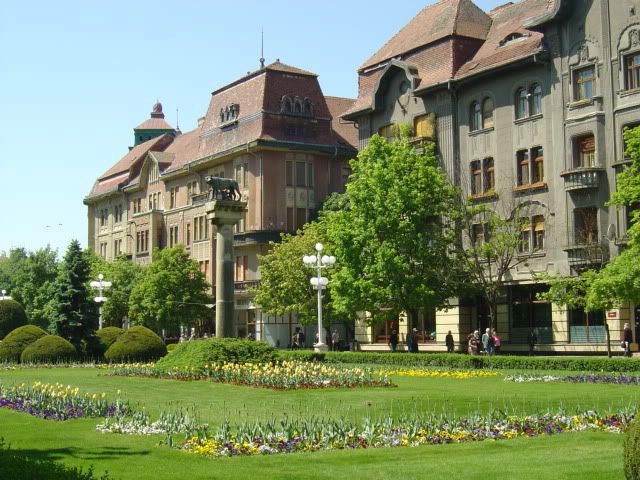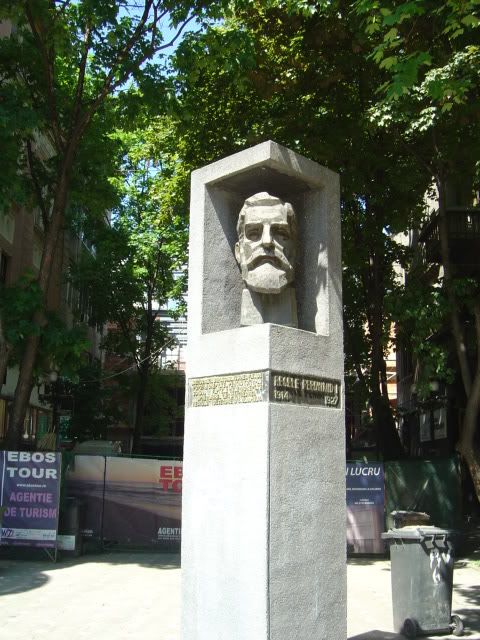 statue of King Ferdinand.
King Mihai, the last monarch to rule Romania was exiled when the communists took over, but word has it he returned to the country and is living at the palace again. I never spent much time being interested in monarchies and paid absolutely no attention to the recent royal wedding, but I suddenly understand why the Brits get so caught up in it. I'll be going to the Palace in Sinaia the last week I'm in the country. This is the public museum palace, there's a residential palace that is smaller and not open to the public where King Mihai currently resides.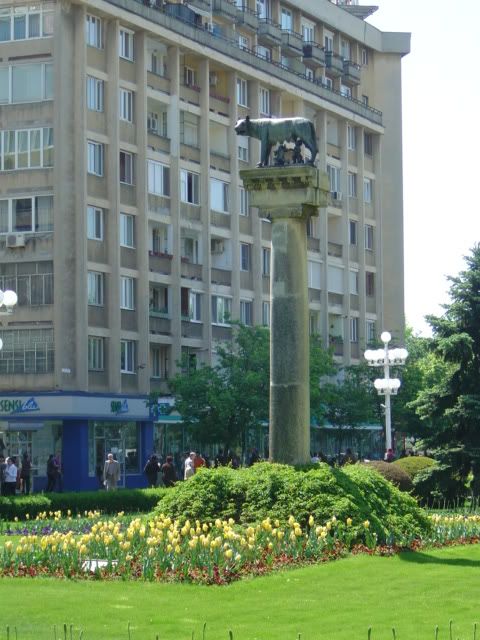 This monument commemorates the story of Romulus and Remus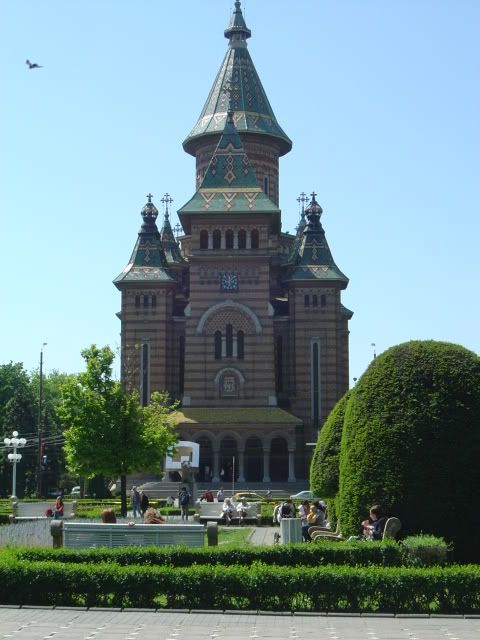 This is the Orthodox Cathedral in the city center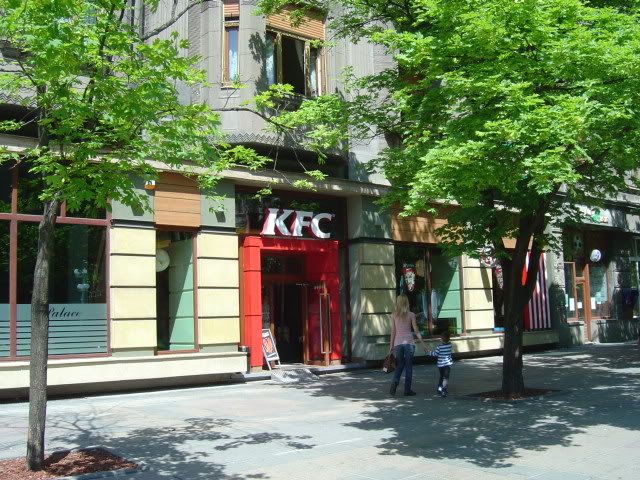 a familiar sight for those who may get homesick for the states